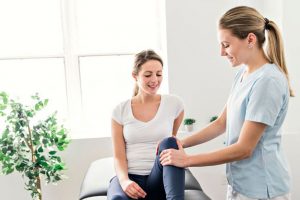 Women are special and unique both physically and physiologically. This is the prime reason why they have a different set of health conditions and treatment requirements from their male counterparts. From long ago, experts in the medical field have taken different approaches to treat female health problems, and it has infiltrated the field of physiotherapy, which is commendable.
The key to finding the right physical treatment for female clients begins with understanding fundamental issues such as their skeletal structure, conformational issues, and what makes them more prone to some illness and more.
At Easygo Physio & Wellness Centre Scarborough, our approach in treating our female clients bears a marked difference from the male clients.
Why do women need different physiotherapists than men?
Apart from the obvious difference in the bone structure as well as their physical needs, the female body undergoes tremendous changes throughout their lifetime. One of the most significant of these changes is pregnancy and childbirth due to which their bodies undergo a transformation.
The hormones and the other physiological activities also make them prone to certain ailments such as ACL or anterior cruciate ligament injury in the knees. Female physiotherapist Scarborough offers a safe, non-surgical way to manage the different ailments that can make life uncomfortable.
It is also a great alternative treatment as it does not involve the use of drugs, which can bring on a whole lot of side effects. Unlike other forms of treatment, physiotherapy treatments can be used by every female irrespective of their age.
Who can undergo female physiotherapy?
If you are a female who suffers from one or more of the following conditions, then you can consider undergoing physiotherapy.
Pelvic pain
Overactive bladder syndrome
Pregnancy-related problems
Childbirth related issues
Stress incontinence
Low back pain
Painful sexual intercourse
Issues related to menopause
Female physiotherapy can also be of great benefit to new mothers and female athletes, as well.
What is different about Easygo Physio & Wellness Centre Scarborough female physiotherapy services?
At our wellness center, our treatments are tailored to the needs of our female clients. The therapies not only focus on finding immediate relief from different types of pain in the female body but also on overall wellbeing, fitness, and pain-free living for all women.
We combine the treatments with manual therapies, clinical treatments, therapeutic exercise prescription, as well as postural education for optimum results.
You can schedule either a home visit or  an office appointment with our female physiotherapist in Scarborough today!